Our Promises
1. To contribute to enhance further friendship and partnership between India and Japan

2. To gain profits in many ways for everyone who got involved

3. To grow social acceptance of diversity in the expanding world of cross culture

4. To produce and promote "sustainable" business
Profile of Representative
A "tour guide" to Desi culture, Miki Anjali Yahiro was born in Chigasaki, Kanagawa Japan. Having visited India in 1997 as a student backpacker she fell in love with Indian classical dances and Indian films. Worked as a travel writer on magazines and guidebooks, she started her business career in a travel agency that handles various expedition tours to India, leading tour groups by herself. In search of life stayed both in Banaras, London and lots of in-between locations since 2001. Re-started her career at an Europe based investment bank group since 2006 and spent 10 years there as a Compliance Officer. Now in 2016 happily self-employed, live in Tokyo with her husband and a daughter. Also a good junior pursuer of Bharatanatyam.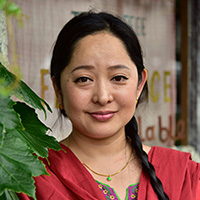 Photo by Kodai Matsuoka
Biology
| | |
| --- | --- |
| 2006-2016 | Compliance Officer at an Europe based Investment Bank |
| 2000-2001 | Sales and Tour Rep at a Travel Agency |
| 1998-1999 | Studied at Universiti Sains Malaysia |
| 1994-2000 | Studied at Faculty of Indonesian Language, Tokyo University of Foreign Studies |
| 1993-1994 | Studied at School of Humanities and Social Sciences, Waseda University |
| 1974 | Born in Chigasaki, Kanagawa Japan |
Business opportunity is just next to us
Looking back the history, India and Japan have long time relationship. Yet I find the phycological distance in Japanese people's mentality towards India. Curries, Information Technology, Caste, poverty, rapid growing economy, one of the largest population in the world and "dancing and singing" Indian films, are the major topics regarding India appearing from time to time.
When I say I am so much into India, people ask me why.
Sir Yoshinobu Sei, to whom I adore as my Guru, the correspondent of Mitsubishi Corporation who later dedicated his life for bonding the stronger knot between India and Japan, described this state of mind as "India intoxicated". He was not the reachable person I can frankly approach to but ever since he showed me the bright and succinct way of living when I was in my stray 20s, I always consider "What if will he say?" whenever I encounter the difficulty.
While I haven't been able to find the reasonable reason why I am so much in love with India, it has already been 19 years since I first time visited India. My visits to the country, no matter it's for business or holiday purpose, is now more than 30 times and the total duration of my stay is more than three years. As time goes by, without realising myself, I seem to look like "desi woman" that sometimes being asked whether I'm Indian or not. And now I think I finally found an answer to the question why India is so "incredible" for me.
There are full of young powers in India. A seed planted in the soil is growing and reaching the sky so fast. A society is in the drastic change and is producing new values and beliefs that had never even been imagined. I am always amazed by the change whenever I visit there. As one of Japanese who spent most of my life in the long dragging economic depression and nearly reaching the last half of lifecycle into the super-graying society, these powers and changes in India are nothing but addictive.
I would very much like to be immersed in this stream and be the witness of millions of Indian dreams come true, possibly grabing one by myself. This is probably one of the big reason I love India.
Not to mention, the knot between India and Japan is now diplomatically getting stronger and stronger.
I'd like to import Indian youth powers to Japan and in return would like to tell Indian people what Japan has gained as an one of the most graying counties in the world. I won't be more delighted if I can somehow shorten Japanese people's phycological distance to India from my end as one of the citizen. I believe Yahiro Project can be the strongest bridge between these two countries.
Good day in Diwali 2016
Miki Anjali Yahiro, Representative of Yahiro Project