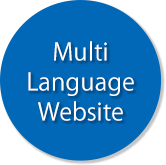 Seek for help? Here's solution
If you are in need of
- multiple language website in Japan
- appealing more effectively to Japanese consumers
- the way of interactive correspondents on SNS that increase visitors
We can be your good partner.
Service providers and service receivers, if their cultural background differ or simply because of language barrier, sometimes not really effectively meet each other. If you are the business owner with such problems, we can support you by producing your business website with the most effective and up-to-date designing that appleals to Japanese customers. We also provide you with the experienced SEO method, multiple language solution and SNS management by native Japanese speakers.
Please feel free to contact us from Enquiry form above at right.